Technical data for the Airport of Guayaquil
Name
▸ Aeropuerto Internacional José Joaquín de Olmedo.
▸ OACI Designator: SEGU.
▸ IATA Designator: GYE.
Location and info
▸ Inside the northern urban perimeter of Guayaquil.
▸ Airport's reference point geographical coordinates: Center of 03/21 runway.
▸ Latitude: 02° 09′ 29″ S
▸ Longitude: 079° 53′ 02″
▸ You can find out airport in Google Maps.
▸ Elevation: 6m (19.68ft).
▸ Temperature average: 31°C (87,8°F).
Runway (RWY)
▸ Runway designation: 03/21.
▸ Lenght: 2684m.
▸ Width: 45m.
Taxiway (TWY)
▸ Lenght: 2935.57m.
▸ Width: 23m.
Operating hours
Platforms
▸ 15 parking positions.
▸ 8 parking spots for passenger airplanes with 10 boarding bridges (this spots vary depending on the type of airplane operating).
▸ 8 parking spots for cargo airships (remote).
▸ 7 parking spots for general aviation planes.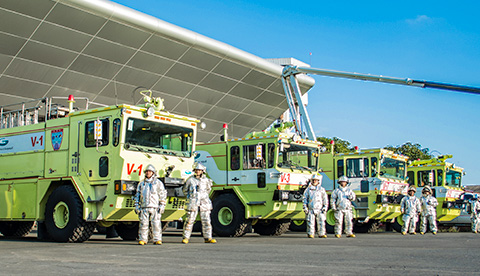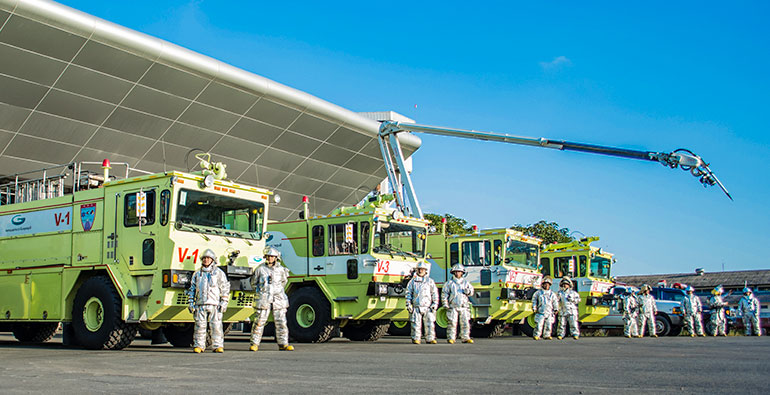 Rescue and Fire Control
▸ Proteccion category: 9.
▸ Critical Airplane: Boeing 767-300.
▸ Operating personnel: Aeronautical firefighters, radio operators, MES (Medical Emergency Service) personnel.
▸ 24 hours, all 365 days of the year.
Operative equipment
▸ 2 OSHKOSH T-12 firetrucks: Capacity of 3170gl of water and 410gl of AFFF.
▸ 1 OSHKOSH T-1500 firetruck: Capacity of 1500gl of water, 190gl of AFFF and 500lb PQS.
▸ 1 OSHKOSH T-2500 firetruck: Capacity of 2500gl of water 410gl of AFF and 500lb PQS; Snozzle equipment (hydraulic arm which penetrates airplane hulls, unique in South America).
▸ 1 Ford-350 rapid intervention equipment: Capacity of 500lbs of PQS, 94gl of water and 6gl of foam concentrate to 6.
▸ 1 logistics support truck.
▸ 1 all-terrain vehicle for logistics support charged with towing the Triage Trailer.
▸ 2 ambulances.
▸ 1 Triage Trailer equipped with first aid kits, oxygen, stretcher, etc. all ready for our critical airplane, considering up to 250 passengers.
Back to nav